It is almost time for the ZeeheldenFestival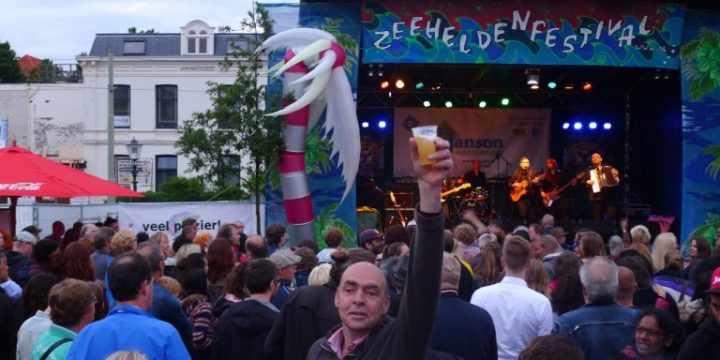 Fantastic music, fun workshops, stalls, good food and drink to enjoy with your neighbours. It is almost time! On Wednesday, 10 July, the 39th Zeeheldenfestival will begin at the Prins Hendrikplein.
A five-day festival with more than fifty bands on two stages, organized by more than 200 volunteers. These are the ingredients for the largest neighbourhood festival in The Hague. The musical acts will cover the whole array from rock, nederpop, indie pop, jazz, funk, percussion and new wave, to world music, flamenco and classical music.
This time too, there will be performances by well-known artists. For instance, Saturday promises to be a swinging evening with a performance by VOF de Kunst, a band which had big hits in the eighties with Suzanne and Eén kopje koffie. On Thursday, Nico Dijkshoorn, well-known from De Wereld Draait Door, and Rinus Gerritsen from Golden Earring will give an acte de présence. There will also be a performance by Saddiq Tazi from The Hague – perhaps not yet a name familiar to many people, but in Morocco he is one of the best-selling artists.
Other special performances include Straf, which will perform the energetic polderpolka in Dutch, and three femmes fatales who will perform a tongue-in-cheek striptease act on Friday evening.
Taking part
As well as enjoying the performances, festival goers can also take part themselves. For instance, The Hague Hoppers will hold a lindy hop workshop. Lindy hop is the precursor to the swing dance style and was especially popular in the thirties. On Saturday afternoon, the Ukulele Play Along Show by Jan and Els will be held. They will hand out ukuleles to the public in order to make music together with one-finger chords.
There will also be many kids' activities. The municipal archaeology department housed in De Tempel will give a medieval snacks cookery workshop. The Haags Kinderatelier will be present with various activities and of course there will be the regular face-painting coner. In addition there will be performances for kids and street theatre. Primary school De Spiegel and the Max Veldhuisschool will give musical performances.
De Natte Règâh
Around the festival square there will be stalls from local businesses where you can enjoy delicious snacks and other food. Festivalbar De Natte Règâh will provide the drinks and festival stall De Vette Règâh the pancakes.
The Zeeheldenfestival shows consideration to recycling. The plastic glasses will be collected separately so that they can be recycled.
The festival will be officially opened on Wednesday 10 July at 6 p.m. by alderman Bert van Alphen. The festival will end on Sunday morning with the traditional breakfast on the square, accompanied by swing music from the twenties and thirties.