Has peace been restored to the quay?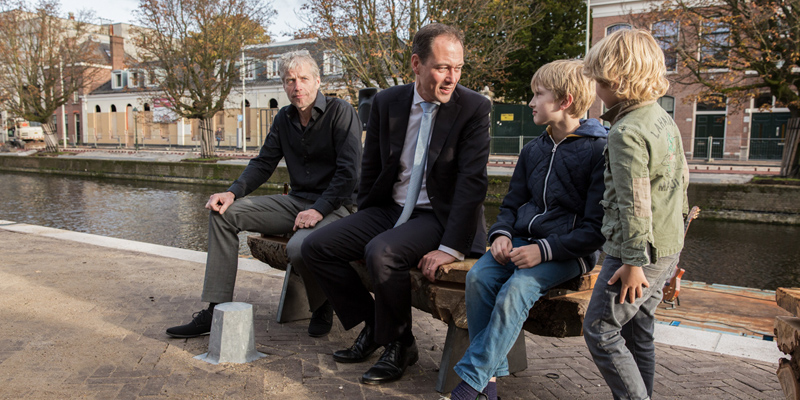 After years of protest and a year filled with activities, it is looking good: the Veenkade. On Thursday 12 October, the local inhabitants held a small party on their newly renovated quay. 'Guests of honour' were a few former inhabitants: chestnut trees, cut into benches, found a new home on the quay.
The opening of the new quay on 12 October was also a bit therapeutic. While enjoying a drink, the local inhabitants shared their experiences of the past few years. From "How lovely it has become" to "but I still miss the trees". And in between them: children on foot bikes, employees from the municipality and a mildly surprised alderman, Mr Revis, who had really expected more angry people. However, on this afternoon, the main feeling was one of relief. It is over. No pump anymore keeping you awake at night. No radio blaring the popular radio show Arbeidsvitaminen through the street at 7 am. Peace on the quay. That is what the inhabitants want.
Wood and steel from the own street
People also felt proud this afternoon. Proud of the new benches made from the old wood, by local businesses. Not all the chestnut trees which grew on the quay were of poor quality, so it was possible to process three of them into new products. Furniture maker Rob Vreeswijk, who has his workshop just around the corner on the Waldeck Pyrmontkade, made the benches. The steel base comes from the DanderzeiDesign on the quay itself. The third tree will be made into a bookcase which will soon be placed in the Elandhoek. And the new trees on the Veenkade? They will be planted at the end of the year.
New disturbers of the peace
Has peace really returned to the quay? That is the billion-dollar question. At present, the Noordwal is being given a new construction, and around the corner, on theToussaintkade, the work is only just beginning. And there is another disturber of the peace waiting to strike, because since the quays are becoming increasingly attractive, there are 'hijackers'. The Hague water must become an attraction. "We choose high-quality tourism", alderman Karsten Klein stated this summer. "So you won't see any beer bikes here." That's not the experience of the inhabitants of the Veenkade. This summer, they already became acquainted with the 'beer boat' with six pounding speakers and groups drinking beer on board. Furthermore, the municipality is examining whether the quay should become a mooring place for new boat hirers. It appears that the worries are not yet over.