Has The Hague become a Maze?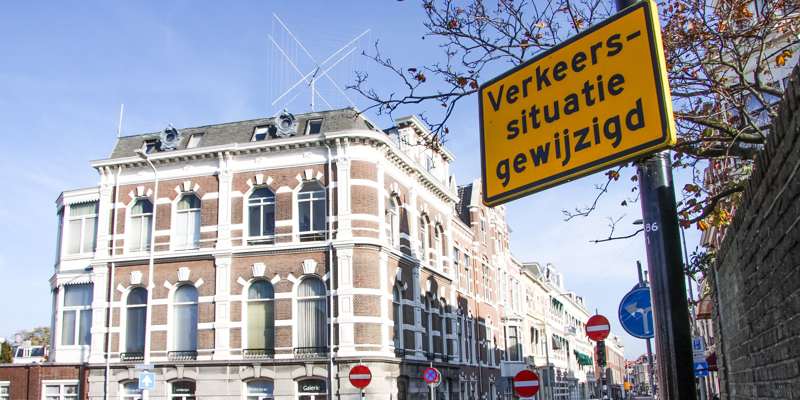 For the residents of the Zeeheldenkwartier (sea heroes district), this is common knowledge: it is often easier and faster to travel about The Hague by bicycle than by car. However, sometimes even a 'sea hero' wants to leave the city by car. And that is, to put it mildly, not always an easy matter.
Since 2012, work has been carried out continuously on the major arterial roads in the city centre. At first, the Bosbrug was replaced, the Javastraat and the Mauritskade were next in line, and now the Laan Copes van Cattenburgh has been closed, and it is only possible to leave the city through the Voorhout using slalom techniques. It is less than a kilometre between the Zeeheldenkwartier and the Malieveld, but sometimes this area is like an impregnable fortress with its traffic jams and traffic lights at red. Unfortunately, this misery will go on for some time. From the end of October, the Javastraat will again undergo thorough change.
It looks as if work has been carried out continuously in the Javastraat during the past few years. And that is true: the street has been tackled in phases. Previously, the crossing with the Koningskade was changed to improve the circulation, renovation works on the tram tracks on the Javabrug are currently being carried out, and in 2016 the whole area between the Schelpkade and the Koninginnegracht will be completely changed.
The provisional plans are as following:
19 October – 14 November 2015: the Javabrug is closed because the tram tracks are being replaced. In the Javastraat, hanging street lighting will be installed. The direction of the traffic flow in the Javastraat, between the Koningskade and the Schelpkade, will be turned around during this period. So you will not be able to leave the city via the Javastraat.
18 January 2016 – Summer 2016: the Javastraat between the Schelpkade and the Koningskade (the narrow part) will be closed. During this period, the sewer system will be replaced and the street will be restructured.
For those residents of the Zeeheldenkwartier who do not want to get lost on the north side of the centre, there are a few possibilities: 1) Find your way via the Mauritskade, the Laan Copes van Cattenburgh or the Voorhout. 2) Take the Koningstunnel; from there the traffic moves relatively fast during the rush hours in the direction of Wassenaar, Leiden or via the Noordelijke Randweg to the Prins Clausplein. 3) Forget about the whole northern side of the centre and drive by way of the Vallaintlaan or even more to the south, when you want to leave the city. However, we know from experience that there are also a lot of delays on this side of the city during rush hours….
Translation: Tiny Mulder