The Municipality of The Hague will provide financial assistance to small households which would like to move from a large home in the public housing sector to a smaller home.
The tenants incentive scheme is a subsidy of € 6,000 for which households of up to 3 people can qualify if they live in a council home of 5 rooms or more. The household must be willing to leave their under-occupied home and move to another home in The Hague or in The Hague region. The housing corporation can then assign their home to a large household.
Suitable home
The Hague has approximately 3,100 large homes in the public housing sector which have at least 5 rooms and are more than 80 square metres. The subsidy provides the possibility of freeing up more than 100 large homes for big families. Households can submit an application for this incentive scheme before 1 September 2018. In addition to financial assistance, they can also work with a specialised estate agent to find a new and suitable home.
Application form
The conditions and the application form can be found at www.denhaag.nl/subsidies.
The subsidy will stop earlier than 1 September 2018 if all of the funds have been used up.
 More news from the 'Zeeheldenkwartier' in the Hague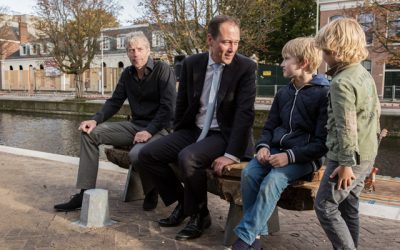 After years of protest and a year filled with activities, it is looking good: the Veenkade. On Thursday 12 October, the local inhabitants held a small party on their newly renovated quay. 'Guests of honour' were a few former inhabitants: chestnut trees, cut into benches, found a new home on the quay.