There are many of you living in The Hague's district 'het Zeeheldenkwartier' and we would like to invite you to share your thoughts on our website.
Recently, we started to translate some of our Dutch articles into English as we believe that expats are also of course a part of our community.
We are all Europeans these days, aren't we?
There are many things to do in the 'Zeeheldenkwartier' and we would like to hear your opinions on our district. Tell us what you find enjoyable and perhaps you could make some suggestions, because you will view life here with different eyes. We would therefore be very interested to find out what you think of this district.
We will publish your contribution on our website and our chief editor will pick the best written, most interesting and entertaining views for our newspaper, which is distributed to 6,400 addresses in our district.
So enlighten us with your thoughts!
Mail: info@zeeheldennieuws.nl
Translation Tiny Mulder
 More news from the 'Zeeheldenkwartier' in the Hague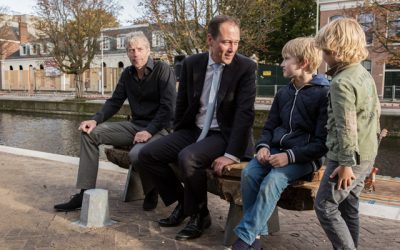 After years of protest and a year filled with activities, it is looking good: the Veenkade. On Thursday 12 October, the local inhabitants held a small party on their newly renovated quay. 'Guests of honour' were a few former inhabitants: chestnut trees, cut into benches, found a new home on the quay.