We proudly present an unique teacher training program in the Netherlands, for aspiring yoga teachers and for students wishing to grow their practice. The Balanzs Teacher Training is an opportunity to transform how you relate to the world. Whether you want to deepen your yoga practice or become a teacher, our training will take you on a journey of self-discovery, supported by a caring community of mentors, scholars and fellow students.
In other words: immerse yourself in yoga study, find your path, and make friends for life.
Our Yoga Alliance 200 hours certified teacher training will combine the best of both worlds. You will not only be immersed in the flowing practices, such as Vinyasa, Gentle Flow and Hot Yoga but you will also acquire in-depth understanding of Anatomy, Yin Yoga, Energy & Meridians and Meditation.
Find your true balanzs with the Balanzs Teacher Training, check our website for more information
Love,
 More news from the 'Zeeheldenkwartier' in the Hague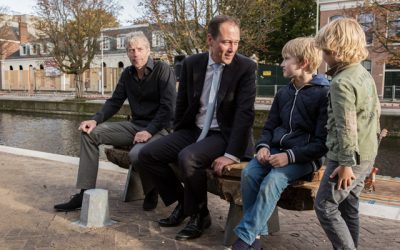 After years of protest and a year filled with activities, it is looking good: the Veenkade. On Thursday 12 October, the local inhabitants held a small party on their newly renovated quay. 'Guests of honour' were a few former inhabitants: chestnut trees, cut into benches, found a new home on the quay.